As I've mentioned before, feathering my nest/apartment has been big on my brain lately and I have a major pinterest attack anytime I see something bright and snazzy that I can pick up (or just fantasize about picking up) for my pad. My latest themed obsession has been with graphic city posters. See below:
I love this print. Love the little rickshaw. Love the bright spice market. Love the mix of old and new architecture. Love the little garden references - Bangalore is the garden city of southern India, you know. Oh, and if you're confused, Bengaluru is the more modern name for the city. The government decided to move away from the Anglicized city names (think Bombay, Varanassi) and pushed for a move to more Hindi-cized names (Mumbai, Benares) that are supposed to be closer to the actual historical names. FYI that! Also, Fernando has illustrated other cities as well, including faves like London, Paris, and Cairo.
Hong Kong Map Print via
Etsy
Here's is another fun take on the city print. This gal Jenna Sue on Etsy takes maps of different cities and makes cool, graphic prints. They each feature only two colors which could be a really neat way to tie into the colors of your room. She already has cities from Akron to Yokohama covered, but if you don't see your ville you can order a customized print just for you!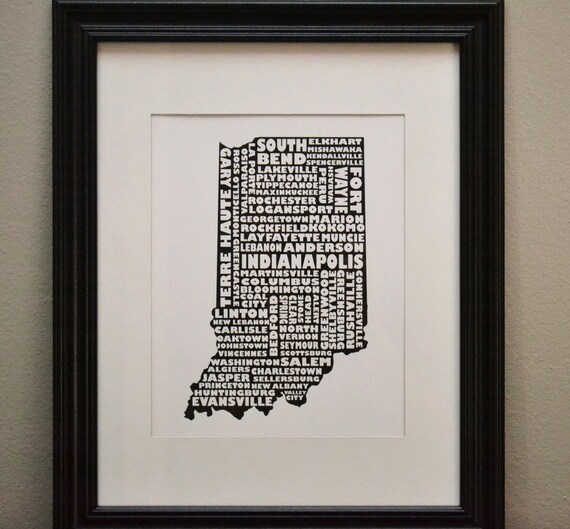 So this print is neither international nor colorful, I now realize, but it is one I'd like to have on my wall regardless. Cities of Indiana arranged all neat and tidy in the borders of the state map. I'd want it customized with little red hearts leading from Indianapolis (where I live) to South Bend (where The Boy lives). That drive up 31 is etched on my heart (and tire treads).