I think it really is true: You are what you read. Which worries me when I get into reading profiles of serial killers... So yeah, I've been reading all these interior design blogs (like
Design Manifest
,
Young House Love
and
Little Green Notebook
) and now I'm constantly looking at old shitty furniture and saying things like "but, look at those
bones
" and "can't you just
see
that with a wash of color?" My parents are not happy with all the flotsam I've dragged into their garage.
But it has such potential!!
Today I came across this lovely pillow on
One Kings Lane
, another darling of the blogosphere: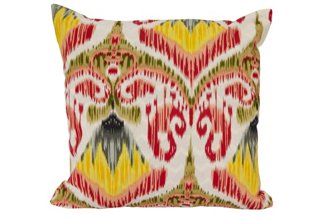 I loves it much. It's even reversible:
I'm always afraid to pull the trigger on household purchases. I always think I might find something better and cheaper the next place I look - uhm, I mean at Goodwill. At almost $40 bucks, this pillow ain't cheap. But yesterday my mom said, "You know, you shop at Goodwill a lot. Maybe it's ok to spend sometimes..." And she's right.
So, question of the day, what combination of pillows makes my couch into the living embodiment of the word "Delicious"?
This group is all from the One Kings Lane collection and are obviously made for each other. Nice, but very "decorated."
So I swapped in some trellis pillows from Amazon. The teal is a nice tie in with the painting, if I do say so myself.
That leopard print from Pier One? Fah-bulous, darling. The navy prints from Amazon are nice too.
Ok, we're really getting somewhere here. I love the grey chevron and the polka dots (all from Amazon) are so cheery!
Ooh, and this is a close tie. Love the navy stripes (from Amazon) - they have some nice beading on the stripes as well. It's a lot more white, though, and white things tend to get dirty in my house. Yep, I admit it. Still love that leopard though.
So what do you think? I leaning toward numbers 4 or 5. I need some group reassurance before I go ahead and pull the trigger on these purchases. What's your vote?